Teams are Celebrating Wrong!
There's one thing that most teams great WRONG: waiting for big milestones to celebrate together.
Thriving teams understand that as much as it's important to focus on the end goal, it's equally essential to celebrate the small milestones achieved along the way! 🔥👏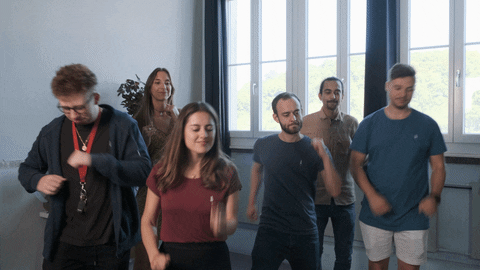 Celebrating Team Wins: Small Wins Lead to Big Surprises!
Picture this: you and your team are working on a project and have just hit a small milestone. It may seem like no big deal, but taking a moment to celebrate that small win can actually create some major good vibes and momentum for your team!
Now, you may be thinking, "Why bother celebrating small wins? Let's just celebrate when it's done!" But here's the thing – celebrating small wins can actually help you reach those big milestones faster! By taking a moment to acknowledge and celebrate the small wins, you create positive momentum and energy within your team that can lead to bigger and unexpected wins down the line!
Plus, let's be real, waiting for those big milestones to celebrate means you may miss several opportunities to celebrate along the way. And who wants to miss out on a chance to throw a little party and have some fun with their team?! 🎉
Why Celebrating Small Wins is a Big Deal!
Celebrating often gives more opportunity for the team to feel good but also to create some space to reflect on what achieved the 'win' and what they can apply moving forward. The dopamine affect of celebrating more often also creates more motivation for team members to get even more engaged in achieving the team's goals.
So celebrate all those small wins. They can lead to bigger and often unexpected wins:
Hit a small milestone on a project? Awesome! Celebrate and hit the next one quicker
Received some positive consumer feedback or sales data? Amazing! Celebrate while exploring what led to the results. Next results may be that much better with these insights.
Someone came up with a great game-changing idea in a meeting? Sweet! Celebrate right then and there to create momentum for the implementation!🚀
See how it works?
Simple Ideas for Celebrating Small Wins
Here's the beauty: celebrations don't have to be big elaborate parties (every time). Here are a few simple and unique ideas to get you started:
🕺Have a mini dance party 🕺- turn up the tunes and bust a move to celebrate that small win!
🍪Treat yo' self🍪 – order in lunch or snacks to celebrate a job well done.
🫶Share the love🫶 – take a moment to acknowledge and thank each team member for their hard work and contributions. Think of creative ways & let them do the same!
👣Take a team break👣 – go for a team walk to somewhere fun, do a quick meditation, or even play a game to take a break and celebrate together.
📣Give a shoutout📣 – post on social media or in a team chat to share the good news and celebrate with others outside of the team.
✋Go Simple✋ – High 5 party train and a team coffee break!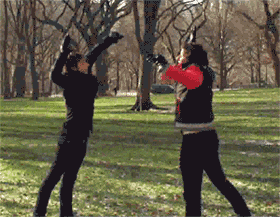 Keep It Consistent & Simple!
Remember, when you celebrate team wins, it doesn't have to be a big, elaborate event. It can be as simple as taking a few minutes to acknowledge and celebrate the hard work and progress your team has made. Trust me, it will pay off in the long run!
Making the extra effort to celebrate consistently is a big deal for your team's morale and success. By taking the time to celebrate, you create positive momentum and energy that can lead to even bigger and unexpected wins down the line. So, the next time you hit a small milestone, take a moment to celebrate with your team and keep that positive energy flowing! 🙌
---
Looking for some FUN, connection and growth for your next team event, social or learning opportunity?  We teach modern day business skills through the power of PLAY (we specifically look at team appreciation in our popular Teamwork PLAYshop)! Check out our Live PLAYshop or Virtual PLAYshop offerings and get in touch!
---